MAKING SUSTAINABILITY DATA WORK FOR YOU
Our Mission: Chief Sustainability Officers need better visibility and new data sources to align their traceability, research and compliance targets to improve and accelerate decision making while meeting compliance requirements.
BINTEL SUSTAINABILITY
BUILT FOR AI/ML ON THE BINTEL PLATFORM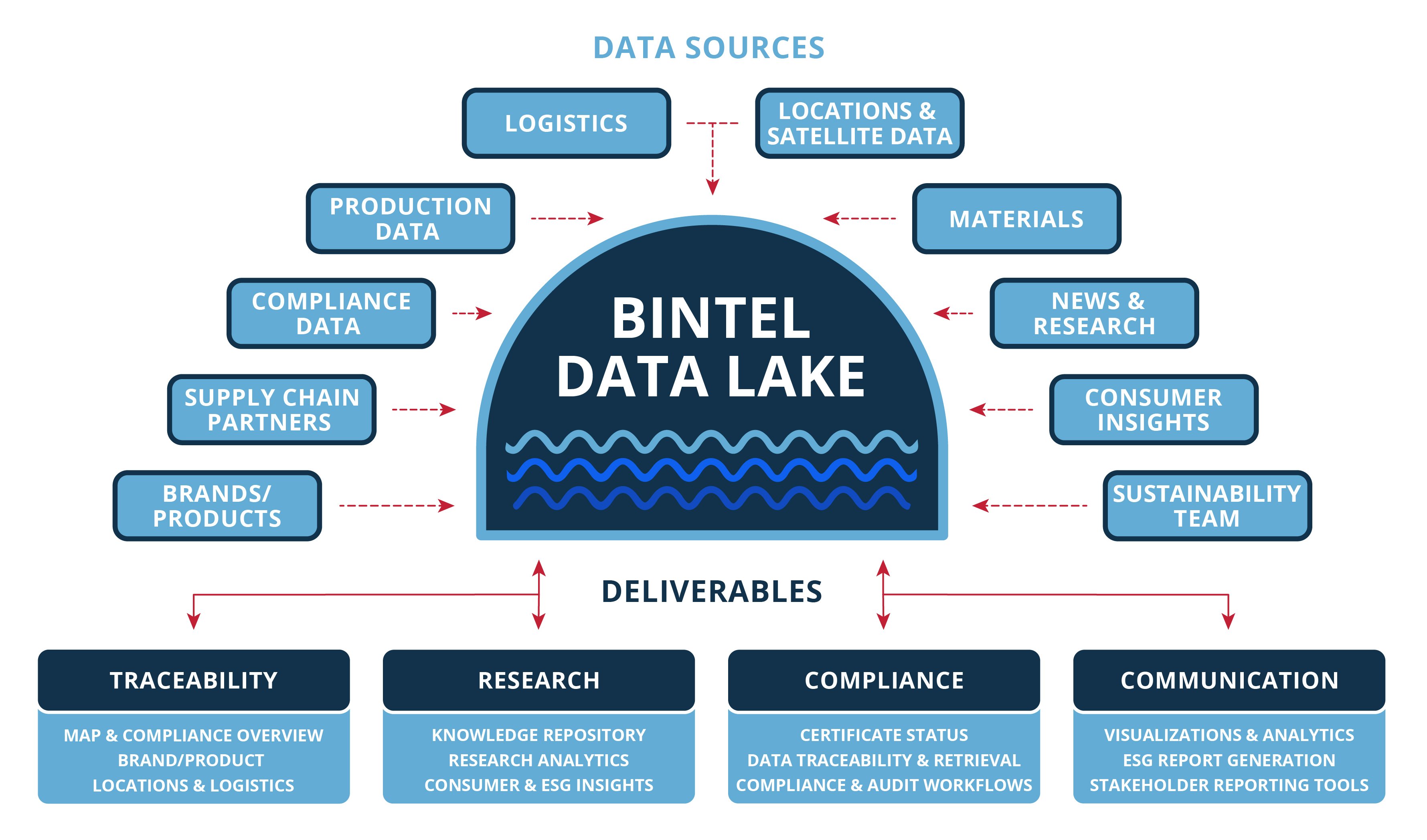 TRACEABILITY – FIRST AND LAST
Traceability intelligence provides the CSO with a view into all aspects of sustainability compliance and progress towards corporate goals.
Traceability provides investors, partners and consumers with transparency that inspires trust.
Sustainability is a north star metric for conscientious corporations. Teams responsible for meeting the new standards and compliance requirements fight to get data siloed in business units. Sustainability teams are challenged to provide global supply chain traceability from raw material to production to distribution. As the demand for sustainable goods grows consumers and regulators are expecting more and more visibility into the sustainability supply chain.
Our solution provides a management overview and can expand to include ESG status, SBT, and other ESG KPI metrics.
COMPLIANCE SUPPORT AT EVERY STEP
Our second task and many client's priority is compliance certificate management. Given the large volumes of data in the compliance process, we work to automate as much of the work as possible freeing up time for more tasks that will yield greater impact to sustainability goals.
Our solution is specifically engineered for sustainability traceability. It is built for sustainability traceability, compliance and measurement and will ensure trust. Proof of sustainability certificates are retained for each factory/supplier in the corporation supply chain. Traceability from product back to each of their source materials will facilitate sustainability monitoring and decision making.
CERTIFICATE SOURCE VERIFICATION
Our certificate source verification and workflow combine the work of storing and extracting data from existing certificates in client archives with the automated acquisition of certificates from public repositories. The certificates are stored, and each data element is linked to the source to support compliance requirements and circumvent the tedious manual process of collecting certificates from factories. This view to provides management with a certificate repository for compliance and can power automated followup, data input and reconciliation procedures.
We help our clients establish a data team that understands the knowledge graph and sources of information in the sustainability supply chain. Sustainability teams need to have insight into the intricacies of their organization's supply chain. Open lines of communication and knowledge sharing between departments will aid in reaching sustainability goals.
MATERIAL RESEARCH
This feature is designed to support the material researcher in the creation of a research repository, both private and public, on new materials and processes with analytics to accelerate the ability to see impact at the company and factory level. This support will include LCA and Circular Economy goals and help the researcher track developments in new materials and best practices worldwide.
Our solution makes it easy to incorporate new data sources and research. New insights will help drive not only sustainability goals, but product growth as well. The volume of research in materials is growing at thousands of pages per month.
Our solution is engineered to stay current and support rigorous compliance. It is important to build systems that inspire trust in the research. Systems should support sustainability in all company decision making while supporting continuous compliance, verification and reporting to ensure progress towards the company's sustainability goals.
COMMUNICATION – FOR CONSUMERS, KEEP IT ACCURATE, CURRENT AND SIMPLE
Sustainability is a new field with Chief Sustainability Officers tasked with installation of new reporting and compliance while leading the research in sustainable options that will enable the achievement of targets. Some of these set with minimal research on their viability.
Building a sustainable data intelligence platform properly will serve your team, your compliance firm and your customer. This is a complex subject that can be confusing to even the experts. For consumers, simplify your sustainability information for the consumer, then give them links to research and articles explaining your effort. And, always be transparent to develop trust and provide the means to facilitate further education.
This responsibility includes driving substantial culture changes in brand organizations and challenges from all sides as to the cost/benefits of these efforts. The CSO is constantly defending ESG and needs support in communicating the benefits in a fact-based manner.
Our communications features provide the CSO with consumer feedback on their perception of the brand/product's sustainability reputation. While industry research clearly supports the consumer's preferences for sustainable efforts, it is still up to the company to communicate their efforts to meet climate change goals in each of their products.
We expect many clients to use the communication features to connect directly to consumers at the point of purchase and also to facilitate collaboration with brand management and cross functional teams.