Effective training and education solutions are critical and many organizations lack sufficient data to rate program efficacy or align performance objects with results. Industry training takes up a large number of resources and is usually designed by experts in their field. Even with the data to make improvements, instructors and companies lack the tools necessary to aggregate disparate resources that should inform decision-making.
Learning Analytics Solution: Gaining Training Value and Metrics Through an AI System
Artificial Intelligence has not been fully exploited in training and education programs. Bintel uses an AI-powered Learning Analytics solution to integrate, link, and compare large volumes of data to provide valuable insights into learner analytics. We collect data from lesson plans, training materials, surveys, and numerous other file types to perform a detailed learner/program analysis, to save our clients time and resources. Click HERE to view our newest Learning Analytics slick sheet.
SOLUTION PROCESS OVERVIEW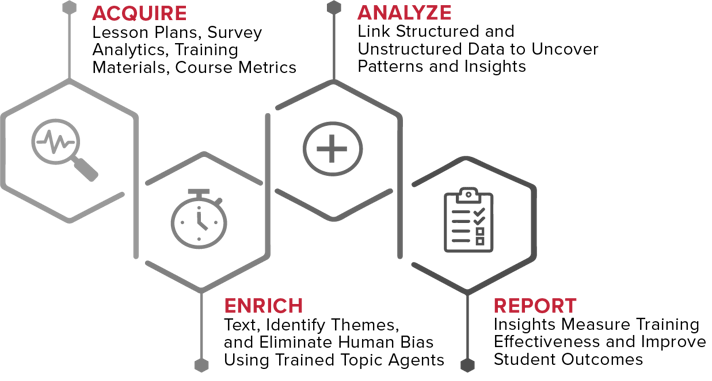 To make sense of your data, we collaborate with you to create an interactive dashboard, making it easier for you to act on the insights gleaned from the data. From the dashboard, users can drill down from the organization level to the learner level to set achievable priorities and goals based on the identified needs in the data and align these with strategic action plans. Schedule a demo HERE.
VIDEO DEMO OF OUR LEARNING ANALYTICS SOLUTION
A dashboard like this could save your organization time and resources so you can focus on other areas of need. Our team provides reports using metrics from surveys, focus groups, historical data, and other formats to discover trends, track themes, and sentiments in learner feedback.
Our experience in Survey Analytics, paired with interview and research analytics solutions will convert years of survey data into a knowledge repository yielding valuable insights.
OUR AI PLATFORM'S KEY BENEFITS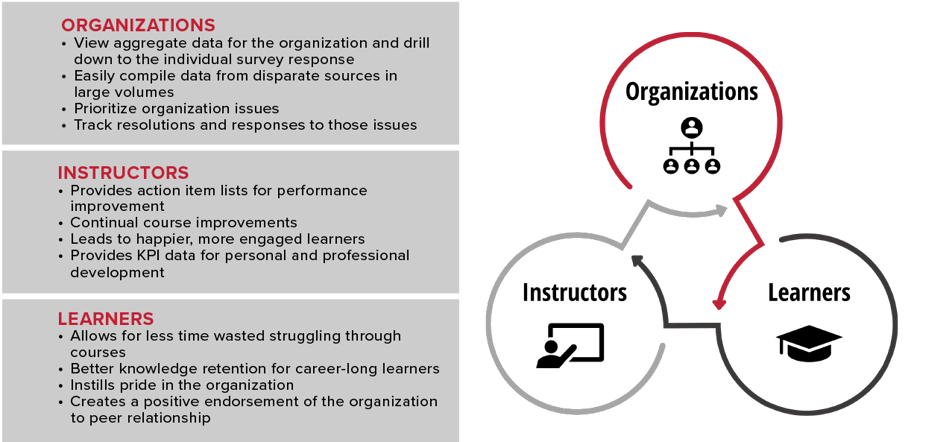 Through a partnership with Quality Analytics Associates, we provide a customized AI-driven learning analytics solution for gaining deeper insights to:
Identify issue

Validate data and/or training solutions leading to desired outcomes

Develop, improve, or digitize curriculum

Provide multiple metric levels of forecasting potential for strategic planning